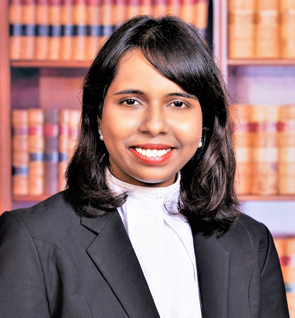 Miss Annette Rachel Edwin
Partner
Fellow of The Chartered Institute of Arbitrators UK (FCIArb)
LL.B. (Hons) University of London, UK
Certificate of Legal Practice, Malaysia

Ms. Annette Rachel Edwin graduated with her LL.B (Hons) law degree from the University of London in August 2011 and thereafter obtained her Certificate of Legal Practice in October 2012.  She was admitted as an Advocate & Solicitor of the High Court of Malaya on 1st November 2013 and had joined the firm in November 2013 as a Legal Associate. She was admitted to be a Partner of the firm in July 2022.
She was admitted as a Fellow of the Chartered Institute of Arbitrators UK in January 2022 upon successfully completing CIArb's accreditation in International Arbitration.
Ms. Annette Rachel Edwin is a litigator and practices as Counsel in various legal areas majoring in General and Civil Litigation and in Construction Law disputes & Litigation at the Malaysian civil and appellate courts and also in Alternative Dispute Resolution involving Arbitration and Adjudication proceedings. Her areas of practice include the following areas of law:-
a) Alternative Dispute Resolution involving Arbitration proceedings in Malaysia and Adjudication proceedings under the Construction Industry Payment & Adjudication Act 2012;
b) Litigation disputes at all levels of the civil and commercial courts in Malaysia in respect of contractual disputes/ claims, tortious disputes/claims, disputes involving the Joint Management Bodies of commercial and residential buildings and disputes regarding the issuance of Strata Titles in respect of commercial buildings at the Strata Management Tribunal in Malaysia.
c) Industrial and Employment Law disputes and litigation including advisory matters for clients concerning terminations, retrenchment exercises, dismissal issues, employee administration issues, employment contract matters and disputes under proceedings at the Industrial Courts in Malaysia.
d) Litigation disputes in respect of maritime/ admiralty disputes concerning Contracts of Affreightment, Bills of Ladings, Charter parties and maritime claims at the High Court of Kuala Lumpur (Admiralty Division);
e) Handles the preparation of commercial contracts and agreements and various contractual advisory matters for clients including but not limited to agreements between Developers and Joint Management Bodies and Local Councils concerning town planning and commercial development matters, construction contract agreements, novation agreements, employment contract agreements and other various miscellaneous agreements.
Professional Qualifications and Professional Membership Affiliations
Fellow of The Chartered Institute of Arbitrators UK [FCIArb]
LL.B. (Hons) University of London, UK
Certificate of Legal Practice, Malaysia
Member of the Malaysian Bar Construction Law Committee for the term 2019/2020
Member of the Malaysian Bar Industrial Law Committee for the term 2019/2020
Member of the Malaysian Bar Construction Law Committee for the term 2022/2023